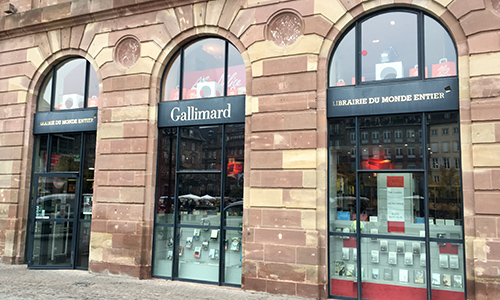 ---
Librairie Kléber

---
Librairie Kléber: the international bookstore in Strasbourg

The Librairie Kléber bookstore, in the Aubette Shopping Arcade in Strasbourg, showcases a vast selection of books in their original language. Our books come from the four corners of the globe, with a strong focus on literature in English, Spanish and Italian but also Eastern European languages. Many other languages ​​also have pride of place in your Librairie Kléber in Alsace.
Services offered by Librairie Kléber, in the Aubette Shopping Arcade
•    A comprehensive selection of foreign language text books for French students (dictionaries, grammars, etc.)
•    Everything you need to prepare CAPES and agrégation competitive exams in all languages
•    The advice of our specialised booksellers, who will take on all your requests and special orders
The Librairie Kléber loyalty card
We offer a loyalty card in the form of a smart card, allowing you to earn 5% on all your purchases. After 5 purchases, the credit earned becomes available and can be deducted next time you come into the store. Accumulated credits must be used up within one year after activating the card.
Literary readings in Strasbourg
The Librairie Kléber, located in the Aubette Shopping Arcade in Strasbourg (67), also organises readings with foreign writers throughout the year.

Store opening times
Monday to Saturday from 10 a.m. to 8 p.m.
---
Bringing your favourite stores even closer

---
---